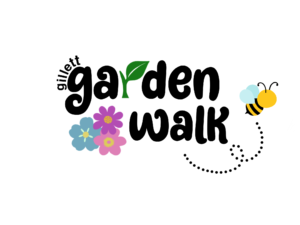 Thursday, July 14, 2022 from 4:00 – 8:00 p.m.
The City of Gillett Tourism and Marketing Commission is hosting the 1st Annual Garden Walk! This is an opportunity for people to tour gardens of our neighbors and friends – while learning how to incorporate their own ideas to their landscape. We have a plethora of residents who take great pride in their landscape. Gardens of all sorts are planned to be showcased: shade gardens, raised-bed gardens, seasonal gardens, hardscapes, waterfall features, and even those with small spaces! (Rain date is scheduled for Friday, July 15.)
Passes are $15 per person and are available for purchase at Gillett City Hall or Gillett Public Library. Maps will be provided when pass is purchased.
Locations
137 S. Woodlawn Ave. – Displays of native perennials with backyard entertaining and water feature
112 S. Garden Ave. – Perennial show from spring to fall
140 Lake Shore Dr. – Shade-lovers paradise overlooking lake
137 Lake Shore Dr. – Various species adorn home
204 E. Main – Community area with hardscaping and artwork
137 E Main – Small-space garden with flourishing annuals and perennials
513 E. Washington St. – Purposeful gardening using raised-beds
Finnegan Lake Rd/Pulcifer Ave – Stroll through the school woods and Michael Anderson Memorial, complete with scenic pavilion
BONUS!!! 120 S. Lake St. – Entertaining space with above-ground fire, nook-and-cranny planting, and mini-oasis
After-Event at Spirits of Gillett
Our after-event will be an opportunity for people to relax and share their experiences during the tour, be provided with educational material from UW-Extension on how to start their own gardening project, how to plant for our zone, preserving over winter, preserving and harvesting goods (vegetables, fruits, herbs, seeds), and cooking. Come join us and relax on the outdoor patio or cool off inside! (145 N. McKenzie Ave., Gillett)
Sponsorship Opportunities
We are excited to ask for your help by becoming a sponsor of the event – to promote your business and to create enthusiasm for others. Our ask is simple: $25 financial donation to host the event and a $25 gift card to patronize your business. With your sponsorship, you will receive Facebook advertising now and through the end of the event, recognition on our Garden Walk map, and signage at the after-event. Another option for supporting this event financially is to be a level sponsor.
Sponsorship Levels:
_______ Golden Shovel ($100)
_______ Silver Rake ($75)
_______ Bronze Wheelbarrow ($50)
_______ $25/25 Gardener
Please contact us at trkruschke@gmail.com to discuss our event or if you'd like to learn more about our available sponsorship packages. Submit paid sponsorship by May 27, 2022 to:
City of Gillett, Attention: Garden Walk, 150 N. McKenzie Ave., Gillett WI 54124
Sponsor/Business Name: ______________________________________________________
Mailing Address: _____________________________________________________________
Phone: _______________________________ Email: ________________________________
*If you have a logo to share, please email it to trkruschke@gmail.com