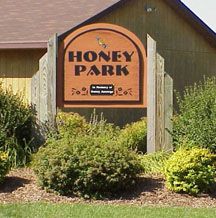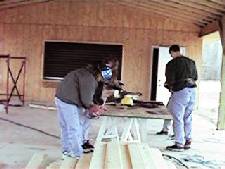 Honey Park is named for the late Honey Ansorge, wife of Emery Ansorge. Emery Ansorge was a mainstay in the Gillett Business Community for decades. He was very active in the effort to keep Gillett moving forward. One day while showing the City of Gillett to a prospective businessman. Mr. Ansorge drove past the Building Supply, an old, rundown lumberyard adjacent to Zippel Park. Mr. Ansorge felt this property was an eyesore and a disgrace to the city. With the assistance of Noel Medley, Mr. Ansorge purchased the property and donated it to the City of Gillett for use as a park. The old buildings were torn down, and a new shelter and new buildings for the Oconto County Fair were erected. Playground equipment has been placed near the shelter for enjoyment of the children. The park is used in conjunction with Zippel Park as the Oconto County Fairgrounds. The Northern Gardeners Club planted the berm surrounding the Honey Park sign and turned it into a beautiful flower and shrub garden.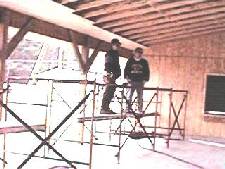 The spring color is fantastic.
The shelter at Honey Park is available for rent by contacting the City Clerk at 920-855-2255.
Pictured here are students from the Gillett High School building trades class. They utilized a concrete slab from the old building supply office to make a picnic shelter. The shelter is used for family reunions, company picnics, and other outdoor functions.